Countdown to Solstice Festival
June 19 & 20, 2020
Manitowish Waters, Wisconsin
SOLSTICE FESTIVAL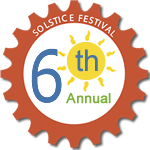 The Solstice Festival celebrates the longest day of the year and is the official start to the summer cycling season in Manitowish Waters. Join the excitement and camaraderie of the Fun Paved Trail Ride and the Century/Half-Century/Cranberry Road/Buswell Loop Rides.
Whether preparing for a week-long tour or charity ride, training for a summer of competitive racing, or simply getting the family out for an organized ride, the Solstice Festival has perfect courses and activities to offer. After a day in the saddle, stick around for a party in the park, featuring live music, food, drinks and more.
KICK-OFF – FRIDAY, JUNE 19
Kick-Off Event and Sunset Ride
at Rest Lake Park Pavillion
The guided sunset ride will leave at 7:30pm from Rest Lake Park and follow the Mercer/Manitowish Waters loop.
Bike lights will be given to all participants.
RIDES - SATURDAY, JUNE 20
Half-Century Ride (50 Miles)
Fun Ride (up to 12 Miles)
Cranberry Ride (29 Miles)
The Buswell Loop (14 Miles)
Party in the Park (until 4pm)